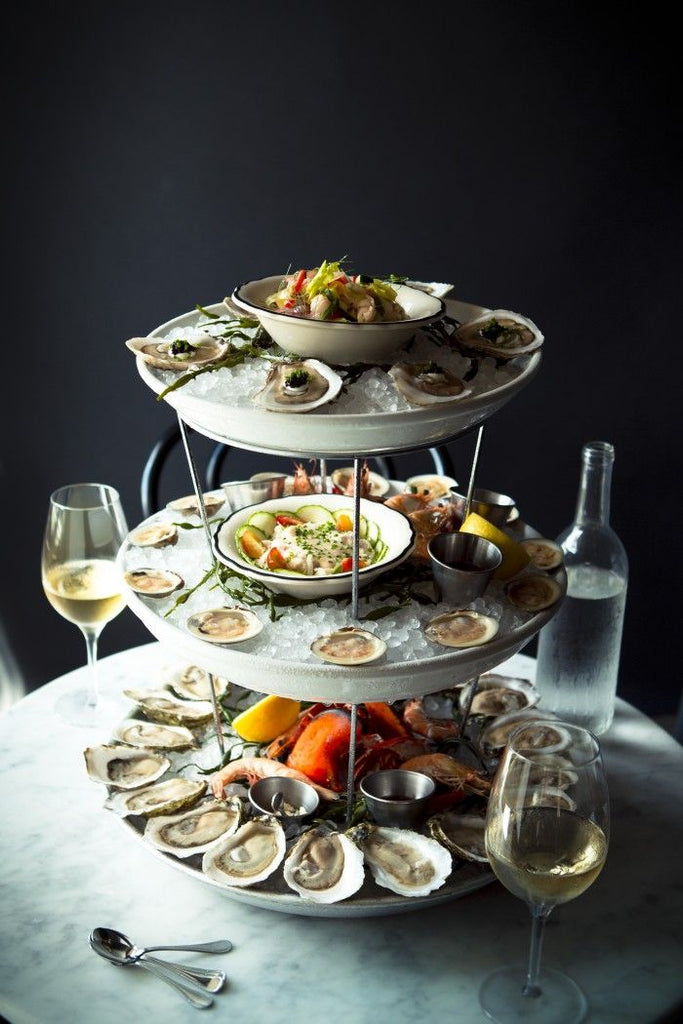 In our third installment of M. Dumas & Sons Recommends, we share our favorite food and beverage destinations throughout the city. From the seafood tower of your dreams to the cocktail you will try to make at home from now on, we take you through a day of eating and drinking to highlight all of the best our incredible food scene has to offer!
     Where to stay?
     Honoring the history of the landmark L. Mendel Rivers Federal Building (circa 1964), The Dewberry captures the luxury and quiet restraint that are hallmarks of historic Charleston. Despite being located just a short walk from the vibrant food scene of Upper King St., don't miss out on the great offerings at the hotel restaurant Henrietta's and when you're done enjoy a cocktail at one of its two bars on site- The Living Room and the Citrus Club.
     Breakfast 
Marina Variety Store: Since 1963, the Marina Variety Store has been a local favorite for everything, but especially their breakfast. In a town full of avocado toasts and fresh-pressed juice, the Marina Variety Store is unapologetically old school. Come for Mike's Double Buttermilk Biscuits & Gravy (*Pro Tip- add their fried chicken tenders and don't go light on the hot sauce) and stay for the friendly service and waterfront view!
Christophe Artisan Chocolatier: Christophe Paume is the rarest of artisans, a third-generation French chocolatier, who grew up in his father's pâtisserie in Toulouse, France. When you walk in, you're going to want everything so pace yourself. Order a French-pressed coffee with a fresh fruit tart and one of their famous almond croissants for good measure. Don't be surprised when you come back 2 or 3 more times before you head home.
     Lunch
Dellz: Charleston is know as a food mecca, but it doesn't all have to be fried chicken and butter laden shrimp & grits. Dellz passion is creating healthy, creative fare that's vegan friendly and just plain good.
Cru Cafe: 

For more than two decades, 

Cru Catering and Café Executive Chef and Owner John Zucker

 has been creating a recipe for success in the Lowcountry. Their Chinese Chicken Salad may just become your favorite salad ever.

Rodney Scott's BBQ: The Patron Saint of South Carolina Whole Hog BBQ, Rodney Scott was born to be a pitmaster (he cooked his first whole hog at 11!). A trip to Charleston without tasting his simple but endlessly complex whole hog bbq just isn't complete.
Basic Kitchen: The goal of Basic Kitchen is simple- use seasonal, local produce and the best ingredients to create food that's nourishing and delicious, giving you tons of energy to pursue the things you love.
     Drinks
Proof: 

An intimate craft cocktail bar with an extensive wines by the glass list and a real good beer list, Proof will wow you with their thoughtful cocktails and warm vibes. We recommend the Proof Gin & Tonic or the Smoldering Manhattan, you'll wonder why you ever drank them any other way!

Graft: 

Graft is a wine shop and wine bar in uptown Charleston, South Carolina. Created by two long-time friends, it is a celebration of good wine, community, great times and the best music. Stop in for a bottle to take home and while you are there, enjoy a glass and some education from Miles & Femi.
      Dinner
Leon's Oyster Shop: Housed in an old body shop that belonged to Leon Ravenel, Leon's Fine Poultry & Oyster Shop is a comfortable Southern joint serving fried chicken, oysters, lots of salads, cheap beer, soft serve, Rose on tap, tons of grower Champagne, and good cocktails.
The Ordinary: The Ordinary is a Southern seafood hall and oyster bar located in an old bank in Charleston, SC with a menu that celebrates the "merroir" of the Coastal Carolinas and the East Coast. Three words; TRIPLE SHELLFISH TOWER.
Chez Nous: With a daily changing menu of just 2 appetizers, 2 entrees and 2 desserts, Chez Nous proves that sometimes less really is more.
Zero George: 

Zero Restaurant + Bar will change the way you think about hotel restaurants. This tucked-away gem serves up some of Charleston's biggest flavors and most dazzling dishes from undoubtedly the tiniest professional kitchen around.
     Dessert
 Carmella's: 

 "Always eat dessert first, so you never have to worry if you'll have room after dinner!" is the mantra that Carmella's lives by. Stop in for a sweet treat and the perfect end to an evening.

Saffron Restaurant & Bakery: A local favorite since their opening in 1986, Saffron has a wide variety of cakes and other sweets that you don't want to miss!
Peninsula Grill: It goes without saying that the Coconut from Peninsula Grill is arguably the most famous dessert, if not dish, in all of Charleston. You're going to want more of it when you get home and that's perfect because they ship hundreds of their angelic Coconut Cakes around the country every year!