Barbour Care & Maintenance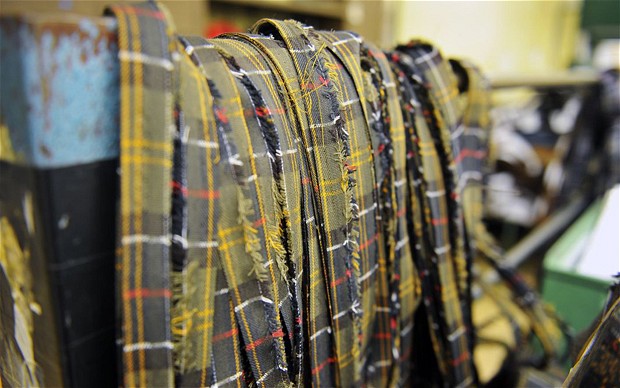 Do's & Don'ts for your Barbour Wax Jacket
✗ DO NOT wash with soap, detergent, solvents, nor hot water.
✗ DO NOT dry clean, starch, or iron.
✗ DO NOT machine wash.
✗ DO NOT store wet garment in a confined area.
✗ DO NOT hang garment on radiators, expose to naked flame or use artificial heat to dry.
✗ DO NOT stitch through outer fabric. If items must be stitched, the affected area must be reproofed.
✓ DO sponge down outer fabric with cold water water when soiled and brush off grit, etc.
✓ DO hang garment in a dry airy place to dry off naturally.
✓ DO wear it, and repair it, and wear it some more.
✓ Do pass it down to someone else when it is time to get a new one!
How to rewax your Barbour
Step 1 | Clean your jacket...
Clean the jacket using cold water and a sponge to wipe down the outside of the jacket. Avoid using hot water, any kind of soap and NEVER put the jacket in the washing machine, as this will remove the wax coating permanently and the jacket cannot be rewaxed.
Step 2 | Soften the wax...
Take a tin of Barbour Wax Thornproof dressing. Remove the lid, stand the tin of dressing in a container of water hot enough to soften the wax. It should take approximately 20 minutes to melt the wax into a liquid consistency.
Step 3 | Wax your jacket...
Using an old cloth or sponge, work the melted wax well into the jacket paying particular attention to seams, creases and dry patches. Wipe off any excess wax. You should keep the wax tin in the hot water while working in order to keep the wax softened. If the wax begins to harden top the container with more hot water. Ensure you keep the wax away from the corduroy collar, the inside of the jacket and inside of the pockets.
Step 4 | Dry your jacket..
To ensure you get an extra smooth finish blow over with a hair dryer to even the spread of wax.
Step 5 | Re-wax your jacket once a year..
Once you've re-waxed the jacket, hang it up. Allow to dry overnight in a warm place away from other garments. Be aware the jacket may lose excess wax for a short while so take care not to get your newly waxed jacket near leather or upholstery.